About Seattle Software Solutions, LLP
A partnership composed of:
Kyle Atikus Barnes: (Manager/Lead Consultant)
Rotary Youth Exchange Student to Germany (2000-2001)
BA, Queens University, Charlotte NC (2005)
English Teacher in Japan (2005)
It's Your World - Travel! (2002 - 2011) Agent / IT Implementation
Shenship Logistics (2009) in house software development
MScIT, Hong Kong Polytechnic University (2010)
Co-Author Agile Software Development: Current Research and Future Directions
MicroD (2010-2011) customized website development
Edward A Piekarczyk: (Accounting and Sales)
Over 40 years of accounting experience
Over 30 years of working with Rotary Youth Exchange students
Over 20 years of ownership of It's Your World - Travel!
Programming in Galileo/Apollo and Lotus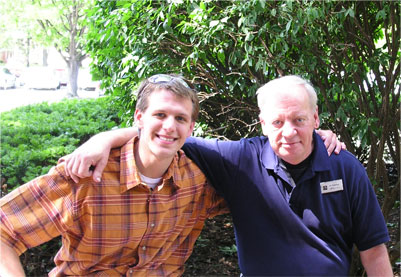 We first became acquainted through the Rotary Youth Exchange program. Kyle has worked full and part-time since 2002 with It's Your World - Travel! Through this period we were able to discover our strengths and weaknesses. We came to the realization that 'off the shelf software' and 'stock' websites really do not provide an efficient or complete way of handling applications specific to an individual business's needs. Our answer is, Seattle Software Solutions!
We partner with you, our customer, to understand your business and provide you with a software solution specific to your business's unique needs. We offer Website Development to give your company presence on the World Wide Web, Data Management applications to handle the data you need to make informed business decisions, and IT Consulting to keep your business on the right path as you plan hardware and software purchases for your company.
We pride ourselves on going above and beyond all expectations.